When presentation is carefully considered even the most humble meal can be made to look like fine dining, as tableware is an expression of your personal style, used to enhance your meals and set the mood for the occasion.
Certainly, every household benefits from good quality tableware that can withstand regular use and present meals beautifully, but what exactly does tableware refer to and what defines good quality tableware?
TABLEWARE
Whether you're throwing extravagant dinner parties or setting the table for a casual braai, you'll need plates, bowls, cups etc. with which to serve food and drinks. These items are commonly referred to as crockery. You'll also need utensils with which to eat and serve your food – knives, forks, and spoons – collectively known as cutlery. Both crockery and cutlery fall under the term tableware, which is an umbrella term for items we use to serve and eat food with at a table that includes glassware (drinking glasses).
Considering how often you'll be using these essential items, it is better to invest in quality tableware. As with almost everything these days, the quality of crockery and cutlery ranges from premium to cheaply made, depending on materials used and manufacturing techniques.
CROCKERY
Crockery varies by material, colour and design, and the options are seemingly endless, available in a wide variety of styles and finishes at different price points.
The majority of crockery items are made from ceramic materials. 'Ceramic' derives from the Greek word meaning 'pottery'. Ceramics are clay-based materials that are shaped and heated at high temperatures to form hard, corrosion-resistant objects. There are three main types of traditional clay-based ceramics: earthenware, stoneware, and porcelain.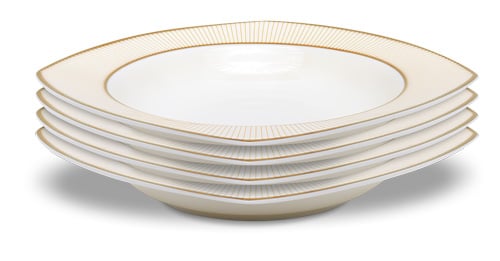 EARTHENWARE
Earthenware is one of the oldest materials used in pottery. It is made from clay that has been fired and glazed at low temperatures, resulting in a porous product that is less durable than other types of ceramic but a popular choice nonetheless. The porosity of earthenware makes it susceptible to stains and liquid absorption, and it is prone to chipping. Compared to other types of ceramic, earthenware is generally more affordable and a good option for those on a budget. The rustic look characteristic of earthenware is a popular choice among those looking for casual artisanal-style crockery.
STONEWARE
Stoneware is made from clay that has been fired and glazed at high temperatures until vitrified (made glass-like). This process results in a non-porous, chip-resistant material that is far more durable than earthenware, but vulnerable to sudden and extreme changes in temperature. Unlike earthenware, stoneware is smooth and is available in a wide variety of shiny, matte or satin finishes.
PORCELAIN: BONE CHINA AND NEW BONE CHINA
Porcelain is a term used to refer to ceramics made from a fine, white clay mineral known as kaolin that originated in ancient China. The terms China, Fine China and New Bone China reference the country of origin, but all refer to the same material and the various modern iterations thereof.
New Bone China undergoes a series of firings at extremely high temperatures depending on the design requirements. Like stoneware, New Bone china is vitrified, resulting in a non-absorbent material that is very strong and durable. Unlike stoneware, New Bone China is white and translucent.
Bone China refers to the original and highly coveted clay formula that, as the name suggests, incorporates animal bone ash, resulting in milky-white porcelain that is more translucent than New Bone China and much stronger. Bone China can be very expensive and is definitely an heirloom-quality investment. Those avoiding animal products will find comparable quality in New Bone China.
Pres Les offers two distinct ranges of New Bone China dinnerware and tea sets:
Beaumont features squared contours with delicate gold detailing, and is available in a 12-piece Dinner Service, an 8-piece Tea Set and a 5-piece Tea Serving Set.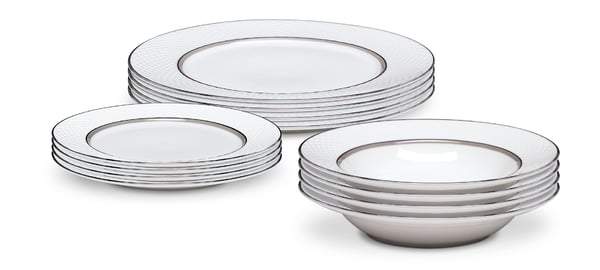 Richmond features a textural basket weave motif complemented by delicate silver accents, and is available in a 12-piece Dinner Service, an 8-piece Tea Set and a 5-piece Tea Serving Set.

While there is less variation in the cutlery market, it is easy to feel overwhelmed by the sheer number of options and variations in quality.
The most popular cutlery materials are Sterling Silver, Silver-Plated metal and Stainless Steel:
STERLING SILVER OR SILVER PLATED
Sterling Silver is the finest cutlery material you can buy, but it comes at an exorbitantly high price and is not without its drawbacks. While exceptionally shiny and beautiful, Sterling Silver is high maintenance, requiring careful cleaning and constant polishing to avoid becoming tarnished. It is also quite soft and prone to dents and damage.
Often, consumers confuse Sterling Silver cutlery with its Silver Plated alternative. Silver Plated cutlery is more affordable because it is coated in layers of silver, and copper or brass typically forms the bulk of the material. It is not as valuable as solid Sterling Silver but requires much of the same care.
If you aren't sure whether the cutlery you're buying is pure Sterling Silver, look out for the trusted 925 mark of authenticity. If you're still unsure, use a magnet to see if the cutlery reacts. If it's magnetic, it isn't Sterling Silver.
STAINLESS STEEL
Stainless Steel is known for its durability, versatility and ease of maintenance, and many consider it to be the most reliable material for kitchenware and utensils.
Stainless steel is formed by adding chromium to steel, resulting in a material that is resistant to surface corrosion and rust, while providing high tensile strength and temperature resistance. The protective self-repairing coating of chromium prevents corrosive materials from damaging the stainless steel. This means stainless steel is impervious to water and non-reactive to acidic foods, making it the perfect choice for cutlery! Not to mention the sleek and shiny surface texture that has all the charm of silverware, without the hassle.
Stainless steel is available in a variety of grades that inform the durability and strength of the material.
Please see our blog post about Stainless Steel to learn more.
Pres Les offers two distinct ranges of 62-piece quality stainless steel cutlery sets, each presented in a faux leather canteen with a luxurious quilted lid and silver hardware: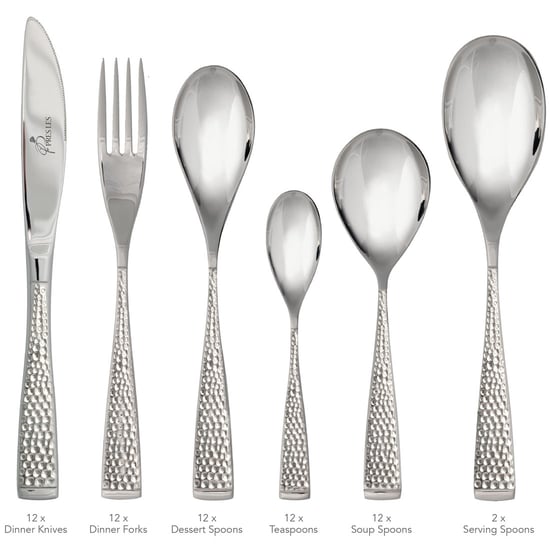 Romanoff consists of 62-pieces of quality stainless steel knives, forks, and spoons featuring artisan–inspired hammered steel handles for a uniquely textured finish.
Clifton consists of 62-pieces of quality stainless steel knives, forks, and spoons in elegant minimalist silhouettes inspired by the "less is more" design trend.
There is an overwhelming amount of tableware on the market today, so it is important to remember that your tableware functions as an essential tool for living: it can be a playful reflection of your personal style and bring joy to your mealtimes, but it also needs to reliably serve its purpose.
At Pres Les, we understand that quality household items should do both, which is why all the products in our Living in Style range are produced with functionality and style in mind, and guaranteed to last.