BED QUILTS
Quilting refers to a style of manufacturing as well as an arts and crafts activity.
Historically, quilts were created by stitching pieces of fabric together by hand in decorative intersecting seams referred to as "patchwork".
Today, quilts refer to three layers of fabric – an outer (top) layer, a central layer consisting of insulative batting or wadding, and another outer (bottom) layer – that have been stitched together in an intricate pattern running through all three layers to create one thick layer.
While the ancient art of quilting by hand exists today among skilled artisans and arts and crafts hobbyists, these can come at a high price and are considered more of an art piece for the wall – or a precious heirloom – than a layer of bedding to drape over sheets.
Commercially manufactured bed quilts are sewn by machines and consist of lightweight outer layers of fabric; commonly made from cotton or cotton blends, and a thin layer of wool or polyester form the inner layer. The result is a warm layering piece that is lightweight, making it suitable throughout the seasons – simply layer according to weather. The added visual and textural appeal of an interesting quilt pattern makes it a stylish addition to your bed.
Factors to help you decide
Visual Appeal:
Dress your bed to impress with an intricately patterned quilt in an array of colours – the options are endless, and visually stunning. Drape a quilt over your bed and make it the centerpiece of your bedroom.
Simplicity:
There are no zips, buttons, or ties to fiddle with in order to dress your bed with a stylish bed quilt – what you see, is what you get, and it's beautiful. Additionally, its lightweight construction means you won't break out in a sweat making your bed!
Multi-Usage:
A bed quilt can be used as a throw on a couch, a decorative picnic blanket or a wall tapestry – the options are endless considering its lightweight construction and visual appeal.
Maintenance:
Bed quilts may require frequent laundering and some need to be dry-cleaned, which can make their upkeep a laborious task and an expensive one, too.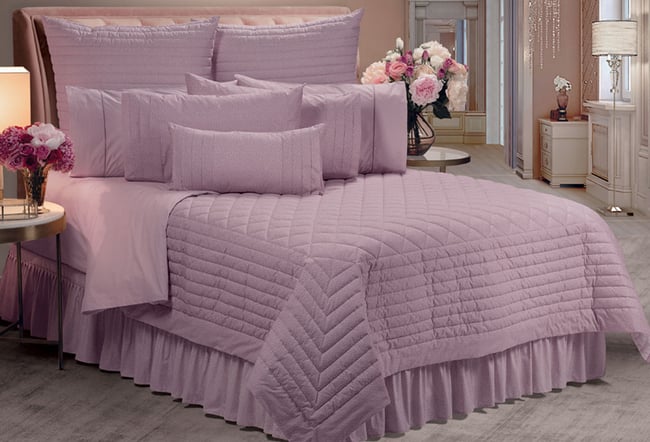 Comforters
Comforters, like bed quilts, consist of two outer layers and an insulative inner layer sewn-through – quilted – in a pattern to create one thick layering piece to place over bed sheets for added warmth.
While the method of construction is the same, there is variation in the thickness of comforters depending on the type, and quantity, of the fill. Fill refers to the contents of the inner layer, which is usually filled with natural or synthetic fibres in varying quantities that determine the warmth, thickness and overall 'plumpness' of the comforter. Comforter quilting patterns tend to be less decorative than traditional bed quilts to evenly distribute the thicker pockets of fill.
Comforters are typically more voluminous than traditional bed quilts and should ideally hang equally on all sides of the bed, covering the mattress.
Factors to help you decide
Simplicity:
without the hassle of a duvet cover! Simply top your sheets with a comforter and it will keep you warm without feeling suffocated by too many layers.
Visual Appeal:
The simpler grid style quilting patterns typical of comforters are contrasted by reversible options offering two alternate prints and designs to spice up your bedroom décor.
Maintenance:
Like bed quilts, comforters may require frequent laundering and some need to be dry-cleaned, which can make their upkeep a laborious and expensive.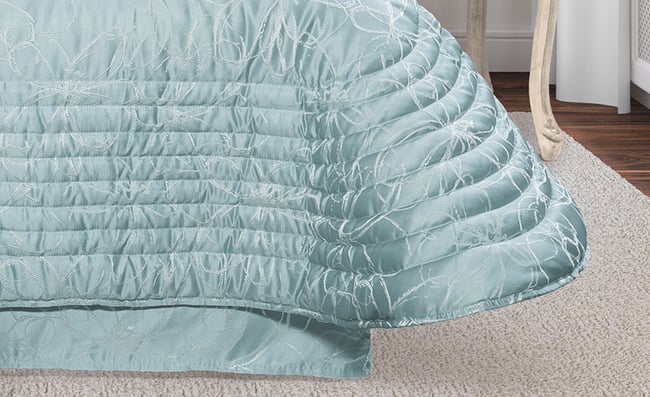 DUVETS
Duvets are often confused with comforters, and in some countries the words are used interchangeably. However, there are considerable differences between the two.
The word duvet comes from the French word for down, the layer of soft feathers under the tougher exterior feathers of some bird species, which historically served as the fill for what we know as duvets today.
Like comforters, duvets consist of three layers of fabric – one of which is the fill – but unlike comforters, duvets require a duvet cover that fits over the duvet and is closed on one end with buttons, ties, or a zipper. Essentially, duvet covers are to duvets what pillowcases are to pillows, and have a protective function as well as a stylistic one. Duvets are usually white in colour so as to be compatible with most duvet cover colours and patterns.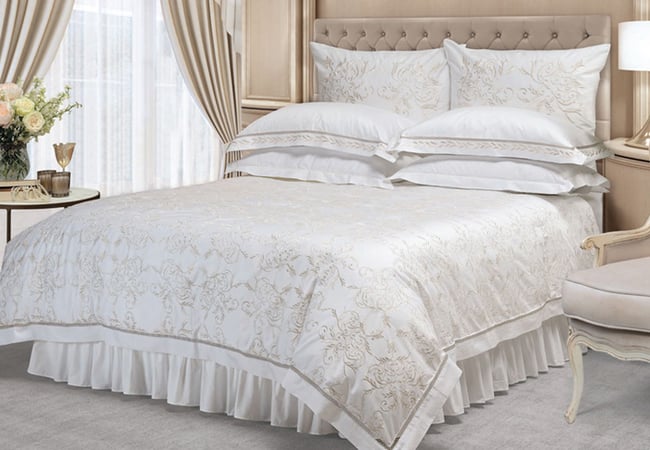 As applies to comforters, the fill influences the thickness and insulative properties of the duvet. Duvets typically consist of down/feather fill, but synthetic fill options are available for those in need of hypoallergenic bedding.
FACTORS TO HELP YOU DECIDE
Ease of Maintenance:
Duvets do not require cleaning as frequently as comforters or quilts due to the protective layer provided by the duvet cover. The duvet cover prevents contaminants from coming into direct contact with the duvet, and is easy to remove and clean as often as needed – or replace with a new one.
Versatility:
Bored of dressing your bed in the same few colours and designs?
There are a countless variety of duvet cover options on the market (of every conceivable colour and print style).
To change the look of your duvet, simply purchase a new duvet cover ensemble. The style options are endless.
To change the look of your duvet, simply purchase a new duvet cover. The style options are endless.
Ease of Use:
The process of inserting duvets into duvet covers and removing them can be a hassle and contribute to many a flustered huff and puff during the process of making or un-making the bed. Not to mention the buttons, ties, and zippers one needs to potentially tinker with every time the bedding needs to be changed.
In the end, the functional properties of quilts, comforters and duvets are partially determined by your lifestyle and the best option for you is a matter of personal choice.
Pres Les bed quilts, comforters, and duvets are all made from the best quality, and easy to care, fabrics to make your investment decision easier.