Read on for tips on what to look for in the perfect seasonal blanket:
BLANKETS VS. THROWS
The terms blanket and throw are often used interchangeably, but there's a difference between the two. Although similar, a blanket is considered a piece of bedding, while a throw functions as more of a home decor item.
Both can be used as a layering piece, but throws serve a more decorative purpose compared to blankets, and are often accessorized with sequins, tassels and other embellishments.
Blankets are typically soft, comfortable and warm, and perfect for curling up with on the couch or sleeping under at night. The right blanket will elevate your bedroom or living room, and add some personality to your space, while remaining an essential source of comfort and warmth.
SIZING
Blankets range in size and dimension. If you're buying a blanket as a layering piece for your bed, consider the size of your mattress and the degree of coverage you want. The size of your blanket should correlate with the size of your mattress for full coverage.
For lounging around on the couch, consider a blanket that wraps comfortably around your body – and an even larger one if sharing!
Pres Les Luxe Blankets are multipurpose, and available in one, generous size of 220cm x 240cm.
FABRIC
Blankets are available in a wide variety of fabrics ranging from lightweight to heavyweight, and are suitable for different seasons depending on their fibre content.
Lightweight fabrics, such as Egyptian cotton and bamboo, are typically reserved for the summer months and are often used in place of duvets, whereas heavyweight fabrics, such as fleece or wool, offer additional warmth and insulation during the winter months by retaining heat.
Pres Les Luxe Blankets are single-layer, heavy weight (3.3kg), blankets crafted from hypoallergenic Polyester and feature an embossed luxury pile. A single layer means that the weight of the blanket is woven into the blanket itself and thus the blanket is not made up of various layers to provide weight and which can detach during washing. These blankets expertly combining style and substance to keep you warm and on trend this Winter season.
WEAVE
In addition to fibre content, different types of weaves provide blankets with varying levels of warmth and weight:
Conventional: The weave of conventional blankets is typically tight and close for added insulation.
Knit: Knit blankets are thicker, heavier and warmer for added coziness. These blankets are typically woven from wool, or synthetic fibres such as acrylic.
Thermal: Thermal weaves are loose and breathable, allowing air to circulate easily.
Quilted: Quilted blankets are typically filled with down (feathers) or synthetic fibres. The blankets are quilted to prevent the filling from shifting around and lumping together inside the blanket. Quilted blankets are often used in place of duvets.
ALLERGENS
Those who suffer from allergies should avoid blankets made from animal-derived fibres such as wool, cashmere and down. Alternative fibres made from synthetic materials, such as Polyester, are more suitable for those who are allergy-prone.
STYLE
Contrast the dreary palette of winter with bold colours in your bedroom or living room, or match the colours to your interior for a coordinated look.
Pres Les Luxe Blankets, embossed with intricate overall patterns in two distinct designs, are available in a range of sophisticated colours, and compatible with Pres Les luxury bedroom ensembles and coordinates.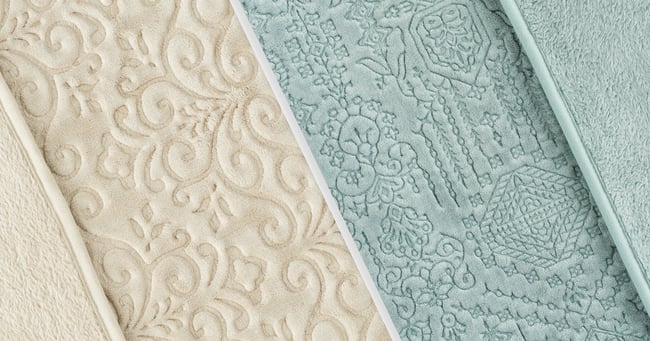 Luxuriously stylish and cozy, Pres Les Luxe Blankets are a must-have indulgence for the cold winter months.